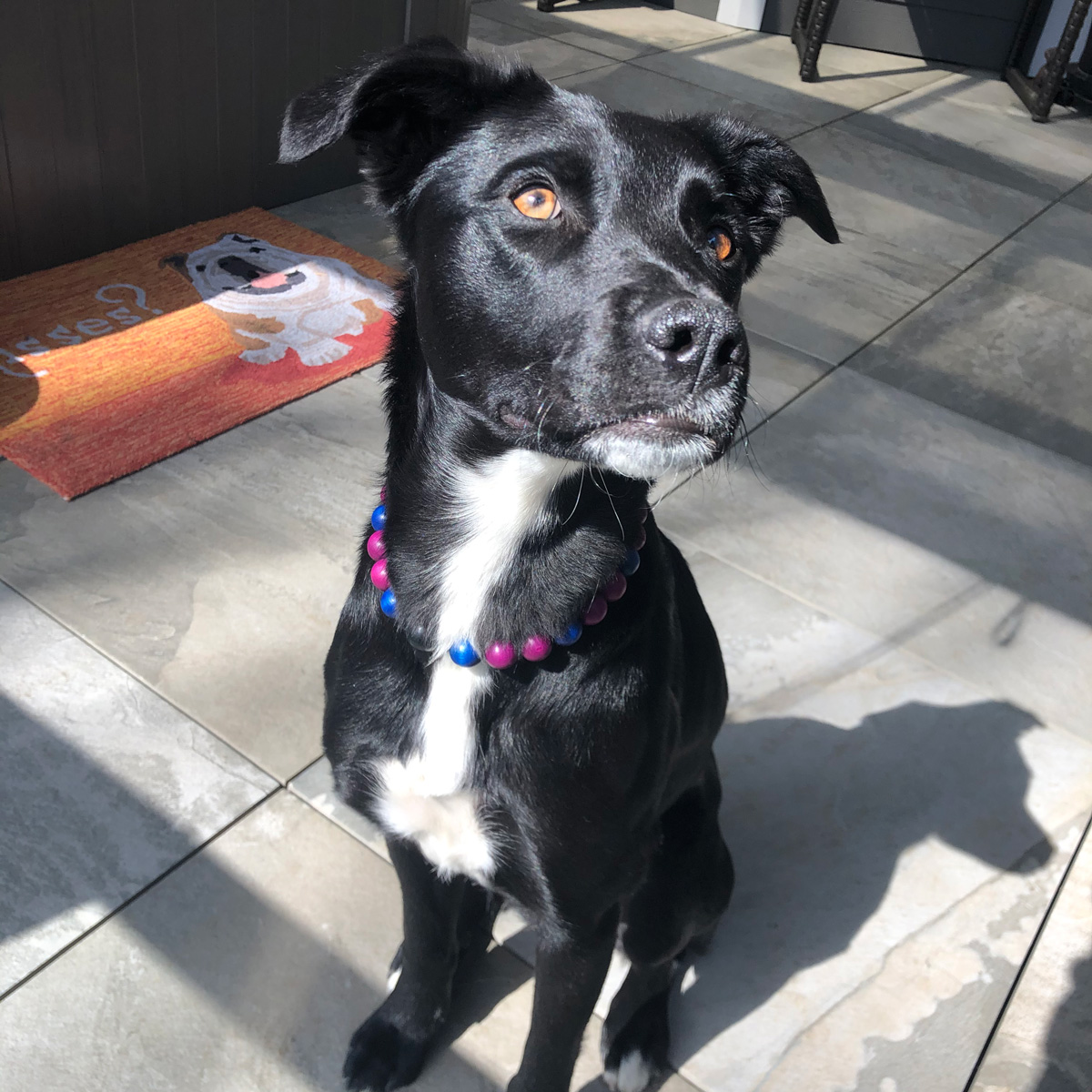 All the info you need to ensure your furry friend is wearing the right size collar.
How to size your dog for the perfect fit
As each of our collars is custom made for your individual dog, proper measurement of your dog's head is very important.
If there's any confusion whatsoever about measuring your dog, please send us an email info@hautedogz.ca. We are happy to assist you.
IMPORTANT: Please measure twice!
Please follow the steps below to ensure a perfect fit:
Find a soft measuring tape, or use a piece of string and measure it afterwards. Don't use a hard / metal one as you will not get a correct measurement.
Locate your dog's ears and place the measuring tape just in front of them.
Run the measuring tape all the way around their head/jaw (see diagram). Make sure the tape is snug. Do not have it loose or the collar will be too big when you get it. Make sure you measure snuggly!
If you have a breed of dog that has a much bigger neck than head, then measure the middle of their neck. i.e. a pug.
We make adjustments in-house to ensure a perfect fit.
All Haute Dogz collars are custom made to fit your dog and we are not responsible for incorrect measurements.
Failure to provide a correct measurement will result in the following:
Cost of return shipping to Haute Dogz
$10.00 collar restringing fee
A sad dog 🙁
Please see diagram below for measuring your dog's head.
Special Orders – prices subject to material used.
Prices listed below are in CAD dollars excluding tax and shipping.
| | | |
| --- | --- | --- |
| 8" - 10" (20.32cm - 25.4cm) | Small | $40.50 |
| 10.5" - 12" (26.67cm - 30.48cm) | Medium | $45.50 |
| 12.5" - 14.5" (31.75cm - 36.83cm) | Large | $49.50 |
| | | |
| --- | --- | --- |
| Up to 13.5" (34.29cm) | Small | $49.50 |
| 14"- 15.5" (35.56cm - 39.37cm) | Medium | $55.50 |
| 16"-20.5" (40.64cm - 50.8cm) | Large | $57.50 |
| 21"-24" (53.34cm - 60.96cm) | XLarge | $62.50 |
| 24.5"+ (62.23 cm+) | XXLarge | $63.50+ |
| | | |
| --- | --- | --- |
| 13" - 15.5" (33.02cm - 39.37cm) | Small | $53.50 |
| 16"- 18" (40.64cm - 45.72cm) | Medium | $60.50 |
| 18.5"- 20" (40.64cm - 50.8cm) | Large | $65.50 |
| "20.5" - 23" (52.07cm - 58.42cm) | XLarge | $70.50 |
| 23.5" - 24.5" (59.69cm - 62.23cm) | XXLarge | $75.50 |
| | | |
| --- | --- | --- |
| Up to 13.5" (34.29cm) | Small | $43.50 |
| 14"- 15.5" (35.56cm - 39.37cm) | Medium | $44.50 |
| 16"-20.5" (40.64cm - 50.8cm) | Large | $48.50 |
| "21-24" (53.34cm - 60.96cm) | XLarge | $50.50 |
| 24.5"+ (62.23cm+) | XXLarge | $51.50+ |
| | | |
| --- | --- | --- |
| Up to 13.5" (34.29cm) | Small | $41.50 |
| 14"- 15.5" (35.56cm - 39.37cm) | Medium | $42.50 |
| 16"-20.5" (40.64cm - 50.8cm) | Large | $45.50 |
| 21"-24" (53.34cm - 60.96cm) | XLarge | $47.50 |
| 24.5"+ (62.23 cm+) | XXLarge | $48.50+ |
| | | |
| --- | --- | --- |
| Up to 13.5" (34.29cm) | Small | $59.50 |
| 14"- 15.5" (35.56cm - 39.37cm) | Medium | $65.50 |
| 16"-20.5" (40.64cm - 50.8cm) | Large | $67.50 |
| 21"-24" (53.34cm - 60.96cm) | XLarge | $72.50 |
| 24.5"+ (62.23 cm+) | XXLarge | $73.50+ |