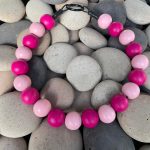 Hot Pants - Classic Beaded Dog Collar
Hot Pants - Classic Beaded Dog Collar
The Hot Pants collar is part of our Classic Series. Featuring beautiful painted wooden beads in dark and light pink.
Recommended Use
Please note that these beads are not clear coated and can fade over time, especially when exposed to water. Remember to remove your dog's collar when not in use and if they go in the water.
Although they can be exposed to limited water, to keep their vibrant colours lasting longer, please remove collars when swimming.
As with any wooden bead there is the possibility of fading over time.
Bead size: 20mm
Sizing
Important: Please confirm sizing before you order!
View our size guide for more information.
Collar sizes under 13.5″
If your dog's collar size is shorter than our standard size options, please put through your order and leave the correct size in the order notes. We will adjust the collar accordingly.